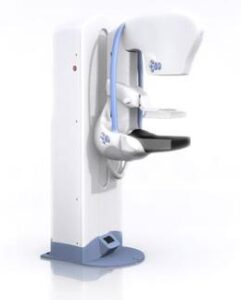 GE Senographe
Essential 2D FFDM
Gantry
24x31cm Detector
X-ray Tube
DICOM
Automatic Exposure
Acquisition Console / Lead Glass Shield
High Frequency Single-phase Power Supply
High Frequency Generator and Conditioner
Face Shield
24×31 Bucky with Grid
Standard Paddle Set
Phantom
Backup Software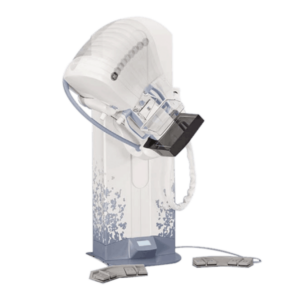 GE Essential SenoClaire
3D FFDM
SenoBright Option
2D & 3D Imaging
Includes an IDI MammoWorkstation
Step-and-shoot tube motion preserves microcalcification sharpness and avoids image blur, since the tube makes a complete stop for each of the nine exposures
An anti-scatter solution designed for tomosynthesis, the SenoClaire grid in 3D reduces scattered radiation while preserving dose and performance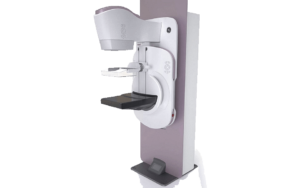 GE Senographe Pristina
3D FFDM
Gantry
Generator
24x31cm Detector
X-ray Tube
3D License
DICOM
Automatic Exposure
Acquisition Console
Lead Glass Shield
High Frequency Single-phase Power Supply
High Frequency Generator and Conditioner
Face Shield
24×31 Bucky with Grid
Standard Paddle Set
Flatfield Phantom
Backup Software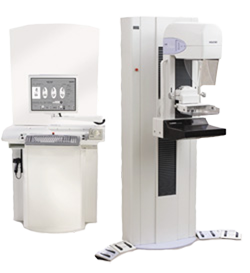 Amorphous Selenium TFT Detector
SecurViewRT
Acquisition Gantry
Dual Function footswitches (2)
Compression Paddles
24×30 cm FAST Paddle
18×24 cm FAST Paddle
Does Not Have Lead Shield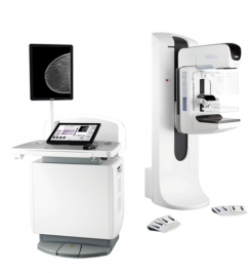 Streamlining workflow, the Selenia Dimensions system performs the imaging of tomorrow, today. All configurations offer the following features
Images that can be instantly viewed on a 2MP or 3MP DICOM-calibrated display, providing exceptionally fine detail
Allows prior breast imaging studies to be recalled, making it possible to view new and prior images side-by-side
Retractable to help when positioning patients
Stationary during 3D™ imaging, allowing patients to be positioned as they are for 2D imaging
FAST Paddle™ system: Conforms to natural contours of the breast, providing greater comfort to the patient and more even compression across the entire breast.
All paddles used for 2D and 3D™ imaging.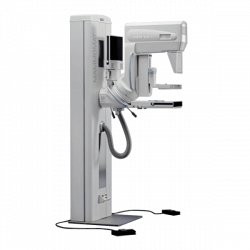 Flat screen 18.1″ 1280X1024 LCD
Collimator
Console Novation
SP WH AWS M440 Grundrechner
SP WH AWS M440
FD AWS Software VA11A
Detector, cpl.
High Voltage Tank
Generator
Magnification table
MONITOR- Paar 8681459 Einzelmonitor
Upgrade-Kit VA12A mit SIP + Stand S
Reach out to us by clicking below and we will be in touch with you shortly.