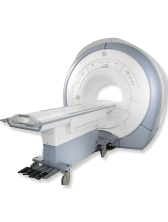 GE Signa Excite 11X 1.5T
MRI
GE 1.5T Signa HDx
8 Channel 15X
SV Magnet
HP 9300 workstation
NEC LCD Widescreen monitor
Leybold cold head
HFD gradient/PDU cabinet
Excite III systems cabinet
Single Sun VRE array processor
Lytron gradient chiller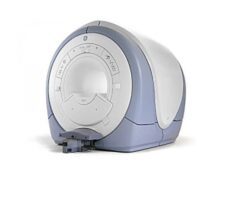 GE Signa Excite HD 12X
1.5T MRI
Bore Width: 60 cm
Bore Length: 172 cm
System Weight: 5,820 kg / 12,832 lbs
Max Table Weight: 300 lbs
Min Table Height: 47 cm
Table Width: 54 cm
Field of View (FOV): 45 cm
RF Channels: 8 RF Channels
In-Bore Patient Ventilation
In-Bore Lighting
Patient-Operator Intercom
Water Cooling System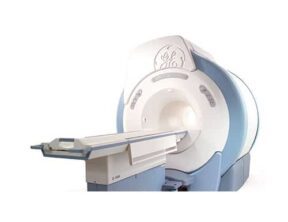 GE Signa Excite HDx
15/16.x 1.5T MRI
A proven, highly homogeneous 1.5T magnet
Optix RF
Express Coil
Efficient gradient, new electronics design and innovative water-cooling
Two table designs
Ready interface
Automated Ready Brain
Intuitive Ready Bar control
Advanced clinical software applications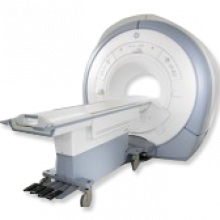 GE Signa Excite HDxt
23X 1.5T MRI
5T CX-K4 LCC Magnet
EXCITE HDxT
Software Level 23.0
16 Channel System
Sumitomo CSW-71 Compressor
HP Z400 GOC
HFD PDU/Gradient Cabinet
HDxt 16 Channel System Cabinet
Lytron Gradient Cooling Cabinet
Magnet Monitor III
System MDC Panel
Sumitomo CSW-71 Compressor
Gradient Type 8916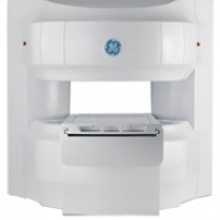 3T MRI Scanner
Still installed and Available for removal January 2017
Includes a 4kW Chiller & the following Coils:
Quadrature Head
Quadrature Body/Spine
Quadrature Shoulder
Quadrature Knee
Quadrature Ankle
Quadrature Wrist
Neck
4kW Chiller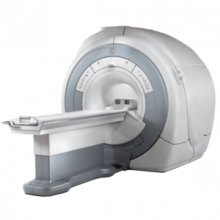 Gradient 33/100
SV25 software upgraded in December 2016 with Propeller 2.0, ARC, MAVRIC and LAVA FLEX.
Coldhead and gradients supply changed in December 2017.
Fixed table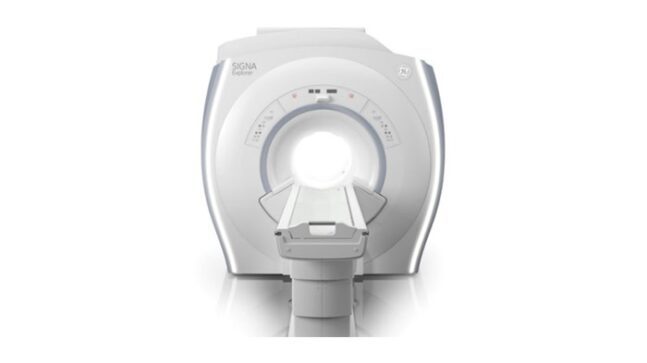 GE Signa Explorer 1.5T
MRI
SilentSuite technology reduces noise like never before – taking it to down to less than 3 decibels above ambient
Improved image quality and clinical confidence with OpTix Optical RF Technology which offers high quality analog to digital signal conversion and can provide a gain in signal to noise ratio of 27% than other conventional analog receivers
Zero helium boil off under normal operating conditions
Speed up your workflow making it more comfortable for your patients
Produce consistent high quality images using plug-and-play-like tools
Additional time savers include READY Brain, an automated brain exam even non-expert MR users can operate and simplify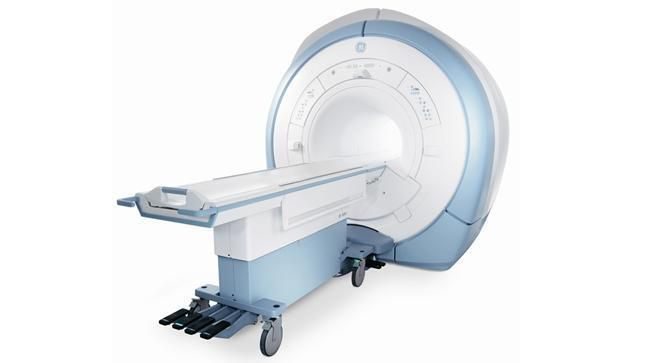 GE Discovery MR 450
1.5T MRI
iROC (In-Room Operator Console)

IntelliTouch Technology Patient Positioning
32 Channel Table Coil Connections
Gradient and RF Resonance Module
Optical RF Technology
Volume Reconstruction Engine
Surface Coils
Advanced Table Technology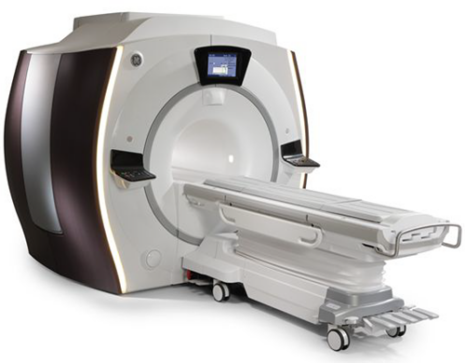 GE Discovery MR 450W
1.5T MRI
Large, 50cm FOV that Covers More Anatomy in Fewer Scans

OpTix Optical RF Technology
Accoustic Noise Reduction Technology
Two-Station Whole-Spine Imaging

Fast Image Acquisition

– More Scans in Less Time




Reconditioned to OEM Specs

– High Quality at Lower Cost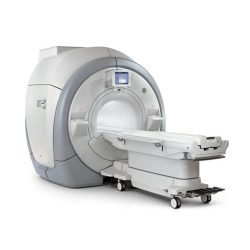 GE Discovery MR 450W
GEMS 1.5T MRI
OpTix digital RF system – signal digitization in the magnet room to help improve SNR
50 cm usable FOV – accommodate larger patients
High-fidelity gradients – optimized control of gradient performance to generate outstanding performance in demanding applications such as fMRI, cardiac, diffusion, and FIESTA
Acoustic Reduction Technology (ART) – reduce acoustic noise for brain, spine, and MSK exams without compromising image quality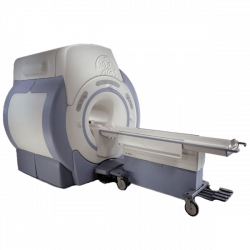 GE Signa Excite HD 3.0T
MRI
High-definition, anatomically optimized imaging, delivered by our high-density coils, data acceleration technology, and high-definition applications
Optimal fat suppression with great tissue characterization, and artifact reduction
Improved workflow
High efficiency with a detachable table — prepare your next patient while another one gets scanned
High productivity with the operator-friendly user interface
Patient Care — one technologist can remove a patient in medical emergency situation
8 or 16 channel configurations
Gradient specifications: Amplitude 50 mT/m, Slew Rate 150 T/m/s
Detachable Liberty* patient table
Magnet FOV: 48 x 48 x 48cm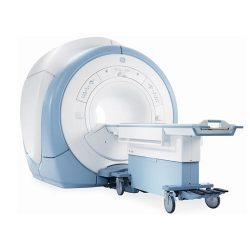 GE Signa Excite
HDxt 3.0T MRI
Gradient strength: * 50mT/m @ 150 T/m/s
Chanels: 16
Software level: 16x
Software options:
Epi, fast grad echo, cine, fast spin echo & flair, time of light, phase contrast vas image, research, proactive service, research psd Specto / probe, sgd_echospeed, dw epi, flair epi, special, smart prep, ssfse, three pane loc, modality worklist, E3DTOF, fiesta 2d, and fiesta3d
Coils:
CTL
Knee
Neuro
Cardiac
Head/ standard/ split
3 GP Flex
Spine
Wrist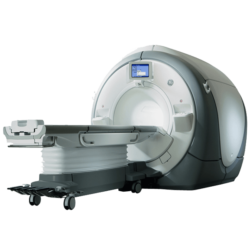 GE Discovery MR 750
3.0T MRI
Magnetic field strength – 

3

Type of magnet – 

superconducting

Gradient slew rate (mТ/m/mcs) – 

200

Gantry aperture (mm) – 

600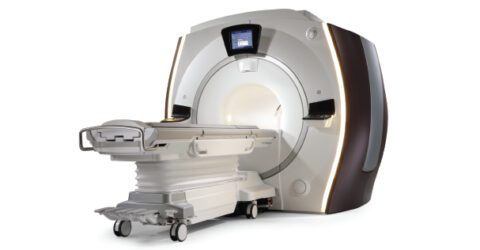 GE Discovery MR 750W
3.0T MRI
70cm Wide Bore w/ flared gantry lead

High-Resolution In-Room Operator Control (IROC)

Stylish Dual-Sided Controls

IntelliTouch Patient Positioning

LED accent lights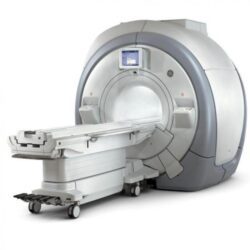 GE Discovery MR 750W
GEMS 3.0T MRI
70 cm Patient Bore  
High Resolution In-Room Operator Control (iROC)  
Sleek dual-sided controls  
IntelliTouch Patient Positioning 
Sophisticated LED accent lights
GEM Express Patient Table
GEM Posterior Array    
GEM Head and Neck Units  
Comfort tilt   
GEM Anterior Array  
GEM Peripheral/Vascular Array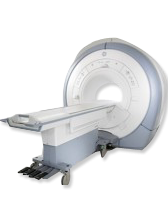 GE HD or EXCITE HDXT
Upgrades
 1.5T CX-K4 Short Bore
Computer: Terra Excite 12.0 Software Echospeed Plus 23mT/m Gradients 80 Slew Rate
Software Options: EPI, FGRE, Cine, FSE and FLAIK
TOF
FLAIR EPI 1
SGD-EchoSpeed
Phased Contrast Vascular Imaging
T1 Breathhold
MRCP 3 DIFFUSION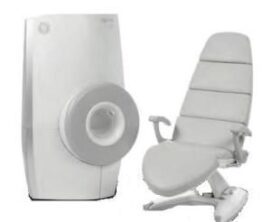 GE Optima MR430s 1.5T
Extremity MRI
Industry-leading gradients deliver 70mT/m of power and 300T/m/s of slew rate. 
Short echo spacing and high signal-to-noise ratio enable high resolution and sharp images. 
The system's design ensures that the targeted anatomy is precisely positioned at the magnet's isocenter, and coil proximity increases signal-to-noise ratio for high clarity—even in small anatomies. In addition, the proximity of a coil adapted to the targeted anatomy increases signal-to-noise ratio with rich clinical information. 
A footprint as small as 222 square feet (20.65 square meters) allows for easy siting and lower installation costs, while the lightweight < 900 lb (408 kg) magnet fits through most elevators and standard doors. 
Six iso-centric dedicated RF coils (ranging from 80 mm to 180 mm in inner diameter) can accommodate a wide range of patient sizes, from smaller patients to larger athletes and anatomies.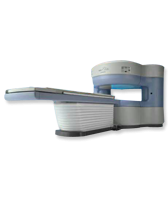 Phased Array
Software Version V5.OR-3
Enhancement SP1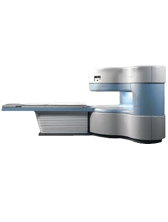 3T Open Magnet MRI
Gradient Strength:  21mT/m
Slew Rate:  55T/m/s
RF Amplifliers:  4 Channel
Software Version: 1
COILS:
Rapid Head
HMC Head
Latched Joint
Rapid Body
MA(QD) Spine
Rapid Knee
Wrist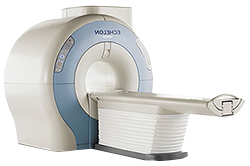 8-Channel SRF 8X48 Digital RF System
30 mT/m amplitude
150 T/m/s slew rate Gradient System
VERTEX Computer
ORIGIN MR Operating Software
Imaging Suite
Clinical, Vascular
DICOM Connectivity Suite
Time of Flight(TOF)
2d and 3D
MTC
Bolus MRA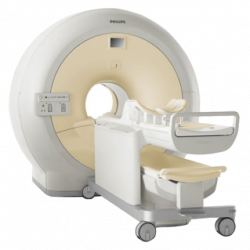 Philips Intera Achieva
1.5T MRI
5T IGC F2000 Magnet
Software Level 3.2.3.4 (2016)
16 Channel
Copley 274-S Gradient Amplifier
HP Z400 Workstation
Intel Pentium 4 Processor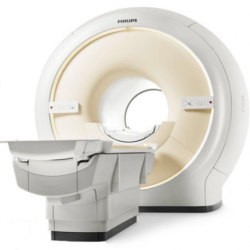 70 cm bore provides more space and helps to reduce anxiety
Smart software to reduce retakes increase consistency and exam speed
Digital coil design greatly reduces coil weights and leads to less patient repositioning in many exams
The ambient light ring on the magnet façade and adjustable, in-bore lighting enhance the openness of the system
Patient-perceived gradient acoustic noise is reduced by more than 80%
At the heart of the Ingenia 1.5T is the new dStream architecture
DirectDigital RF receive technology, which digitizes the MR signal directly in the RF coil at the patient
FlexStream workflow, which increases system versatility and throughput through better coil and patient management
EasyExpand, which enables plug and play expansion of clinical capabilities without major hardware upgrades
Philips Intera/Achieva
3T MRI
0T Titan Magnet
Achieva Covers
16 Channel System
Freewave digital RF
Dual Quasar 281+ Copley Gradients, 200mT/m/s Slew Rate
Software Rev: R5.3.1
MKS Amplifier
Teal Power Conditioner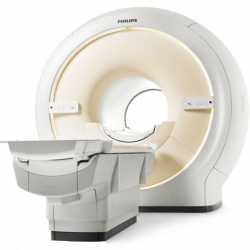 Exclusive Quasar and Quasar Dual gradient systems offer gradient amplitudes up to 80 mT/m to provide superb performance with excellent linearity
One click to consistent MRI Exams
FreeWave Technology
The gold standard in parallel imaging, SENSE can be combined with virtually every scan method for clinical benefits such as reduced scan times, higher temporal resolution and enhanced spatial resolution
ExamCards can be downloaded directly to a Philips MRI scanner, providing fast, consistent MRI results
MultiTransmit technology automatically optimizes the power, amplitude, phase, and waveform for optimal RF uniformity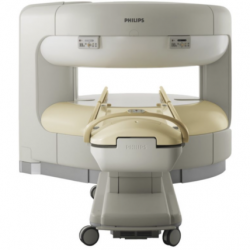 .06T Open; C- Shape design
23mT/m
75/Slew Rate
Software 6.2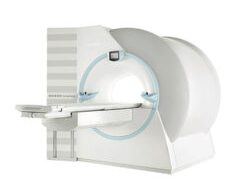 5T OR 70 Magnet
Quantum Gradients (Gradient Coil A539T)
Ultra Gradients 20 mT/m
Numaris 3.5 OR 70 Magnet
DICOM
Advanced 3D
Turbo Neuro Package
Turbo Body Package
Flow Quant
Turbo Ortho Package
Clinical Imaging
Cardiac Package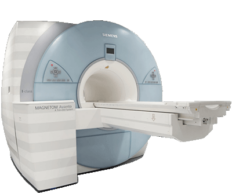 OR 105 Magnet
8 x 32 Matrix
Q- Engine Gradients
MR B19 Software Version
HP Z400 Computer
8 Channel,
External KKT Chiller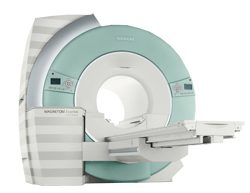 550lb Table Weight
18 Channel Wide Bore
TIM (Total Imaging Matrix) integrated coil technology offers whole-body coverage without repositioning for multiple exams
Zero boil-off magnet virtually eliminates cryogen usage, greatly decreasing service costs
Low siting costs: magnet, equipment, and control room fit into 290 sq. ft.
5T Wide Bore 70cm OR122 Magnet
TIMS 76 x 18 Matrix
Tim(76 x 18) Z-engine performance level
Tim(76 x 18) is Total imaging matrix with 76 seamlessly integrated coil elements, combinable to 18 RF channels
Z Engine 33mT/SR100 Gradients
High patient comfort with 70 cm
Open Bore in combination with ultra-short system design (145 cm cover to cover)
Up to 50% higher productivity with Tim 4G and Dot
Full range of applications for the clinical routine
DirectRF – digital in/out for higher signal purity and improved stability
TrueForm design for optimized homogeneity volumes matching the true form of the human body
Tim Dockable Table – mobility done right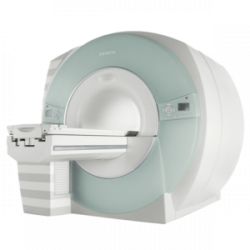 60-cm system available in an 8-, 18- or 32-channel configuration
B19 software with standard software features, such as SPACE DIR, DIXON TSE
Industry-leading homogeneity for demanding applications with available fMRI, DTI, tractography, and perfusion
50-cm field of view
3T safety parameters are optimized with SAR standard and with SAR-optimized body coils and sequences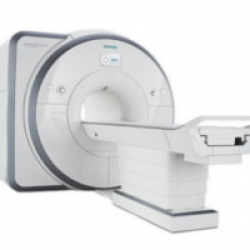 Outstanding image quality with Tim 4G
DirectRF technology
Best-in-class 3T image homogeneity with TimTX TrueForm
Excellent usability and image consistency with Dot
Comfortable and easy patient setup with SlideConnect & DirectConnect
Low operating cost through low power consumption and zero helium boil-off
Fast break even due to optimum TCO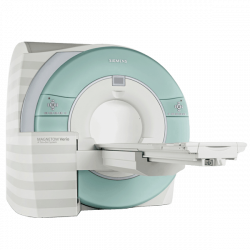 Increased throughput with Tim+Dot
Short, light, and easy to install 3T system
Greater patient access and comfort with 70 cm Open Bore
TrueForm design for optimized homogeneity volumes matching the true form of the human body
Field strength 3 Tesla
System length 173 cm
System weight (in operation) 8.2 tons
Minimum room size 33 m2
RF Tim [102×8]1, [102×18], [102×32]
Gradient strength VQ-engine (45 mT/m @ 200 T/m/s)
Helium consumption Zero Helium boil-off technology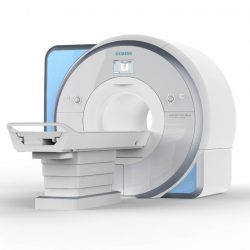 Field strength 3T
Bore size 70 cm Open Bore design
Magnet length 163 cm
System length 173 cm
System weight (in operation) 7.3 tons
Minimum room size 31 m² / 334 sq. ft.
RF Tim [204×48], [204×64], [204×128]
Gradient strength XQ – Gradients (45 mT/m @ 200 T/m/s)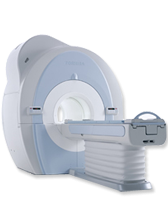 AGV, XGV or ZGV Gradient Packages
Ultra-Short Ultra-Wide Bore 1.5T Magnet
Gradient Package-30mT/m
130 Slew Rate
RF Cabinet Integrated
Fresh Blood Imaging (FBI)
DICOM
Advanced Pulse Sequences
Vascular Imaging Techniques
Fast Scan Sequences
Advanced Fast Scan Techniques
Peripheral Gating Package
Cardiac Gating
Respiratory Gating
Reach out to us by clicking below and we will be in touch with you shortly.