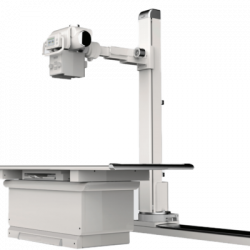 The XR5 provides state-of-the-art imaging in multiple applications
Featuring a 4.3″ SID and Angle display
Collimator with a 150 watt halogen bulb
Rotating anode tube for heat storage
4-way 550 pound capacity table
500mA high frequency generator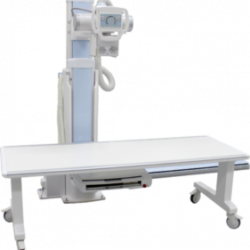 Fully integrated
Tilting Motorized Elevating Bucky
Manual Counter Balanced X-Ray Tube Movement
Collision Sensing and Power Disrupt
Locking Wheels Mobile Table
Flexible for Multiple Exam Views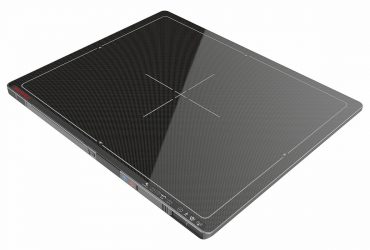 1717 & 1417 WCC &
WGC DR Upgrade
Image Magnification
Image Stitching
DICOM File Management and Printing
CD recording with CD viewer
Measuring the Length and Angles of the Image
Adding Annotation Text, Graphics and Electronic Markers to an Image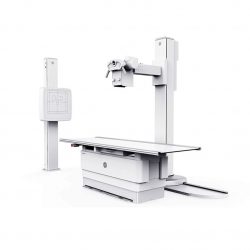 Jedi 80 Three Phase High Frequency Generator
Elevating Four-Way Floating Table
Overhead Tube Crane with Automatic SID detecting
Image receptor selection
Variable vertical SID
Bucky Wall Stand
Phototiming
Auto-Colimation
Programmable APRs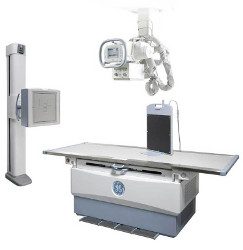 Two GE Flat Panel Digital Detectors
Ceiling Mounted Tube Suspension with Touchscreen Display
Acquisition Review Workstation
Extended Arm Digital Wallstand
Maxiray 100 Tube New in 2018
Elevating Table
Auto-Positioning
Auto-Processing and image distribution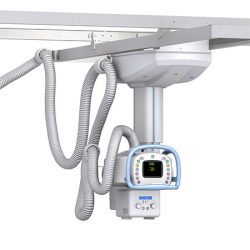 Optimal mechanical balancing and light weight design for ease of positioning with precision and speed for any patient procedure
360° for column rotation and 270° for vertical tube rotation with 45° detents ensures imaging flexibility for the most difficult of patients and exams
Safety devices include negative locks on horizontal and vertical rotation in the event of a power outage. Ergonomically designed for ease of use and movement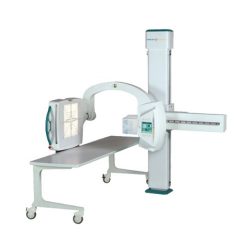 Simple, clean, and intuitive two screen workflow: (Work list and Acquire/Review screen)
Complete integration of dose area product meters (DAP) with all readings recorded for export as well as embedded in DICOM image tags
Generator Interface Control for integrated Operator's Console
Protocol Driven by APRs
Low Dose Sensitivity Mode (LDSM) allows for as much as 50% dose reduction in dose sensitive studies while maintaining excellent diagnostic image results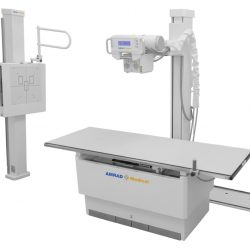 Increased Through-Put – The crystal-clear digital SID readout allows for fast and accurate patient positioning
Highest-Capacity Elevating Table – Safely and seamlessly supports patients weighing up to 650 lbs
Built To Last – A heavy duty, continuous-column tubestand allows for stable floor-mounting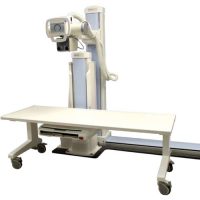 Floor Mounted design minimizes installation requirements
The FRS is ideal for ambulatory patient settings and comes standard with a 500 lb. patient capacity mobile table.
Available as a CR or DR ready system, the FRS can be adapted to use with most current CR and DR solutions.
The floor-to-wall-mounted main column supports vertical movement with a dual-speed, motorized swivel arm
The swivel arm features a 135˚ range of motion with detents at 0˚, 30˚, 90˚ and 120˚, plus 39" of vertical arm movement
A tube mounted inter-phase control option. For in-room system monitor and control
An advanced collimator employs a linear laser beam with light field indicator and three-knob manual control to optimize patient positioning
A 440 lb. capacity mobile patient table comes standard with every U-Arm DR system
Detector side control
Multi-purpose patient positioning indicator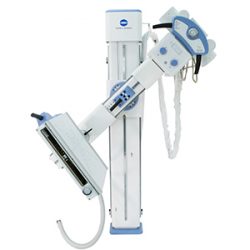 Motorized Variable SID
Manual Rotation with DetentsMotorized Vertical Movement
Detents on 30, 60, 90 and 120 Degrees
Detector Swivel ±45°
Manual Control
Accessory Rails (Cones, Filters, DAP)
Field Light
Six Blades
Multiple Tube/Generator Combinations
Three-knob Collimator
Weight-bearing Stand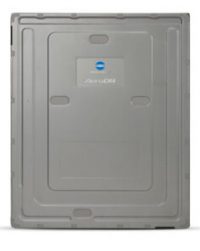 Extreme resolution (100µ) and dynamic range (200µ) without increasing patient dose
Supports up to four seconds of autoexposure detection with no X-ray generator cable connection
Charges to full power in 30 minutes and lasts up to 8.2 hours (300 images)
Power cell packaged in lightweight but durable and waterproof enclosure2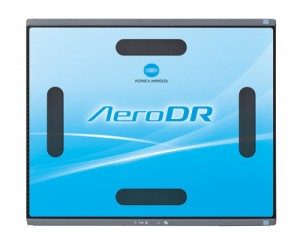 Shorter charge time: 13-minute charge for 4.1 hrs. of use
AeroSync – Automatic Exposure Detection
The flexibility and strength to hold up to 661 lbs. on a bed
Liquid resistance, IPX6 compliant
Grip sheets to aid handling
One second preview, six second cycle time
Power, speed and simplicity of operation ideal for general radiography
Lightest panel in its class: 5.5 lbs. including built in power capacitor
Simple and reliable for Primary Imaging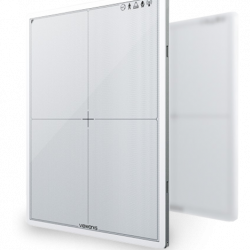 VIVIX S-Series 1417,
1717 DR Upgrade
14″ x 17″ Vivix or 17″ x 17″ Wireless Flat Panel DR
Can be used for General Radiography and Veterinary
High MTF and DQE coupled with a slim design provides superior image quality and better usability, capable of being upgraded anytime, anywhere.
Reach out to us by clicking below and we will be in touch with you shortly.